Infosec Europe: Visual Journal
Highlights from the London Show's 20th Anniversary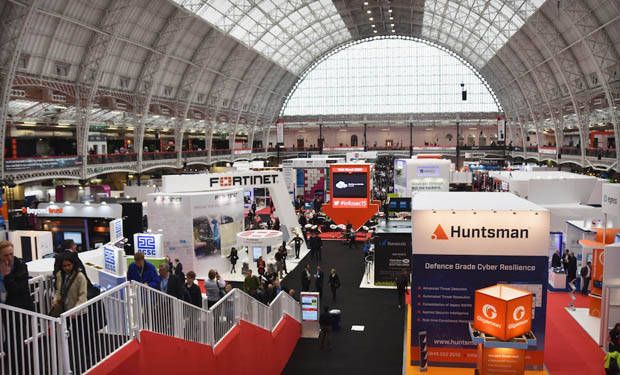 The 20th annual Infosec Europe conference ran from June 2 to 4 in London. This year, the event decamped from the Earls Court Exhibition Centre to the nearby Olympia Conference Center. The facility dates from 1886, when it was opened as the National Agricultural Hall, and its eye-catching Art Nouveau features contrasted with the latest in exhibition-hall design and displays.
See Also: Attack Surface Management: Improve Your Attack Surface Visibility
Here are some highlights from the event:
Olympia Conference Center

Source: Mathew J. Schwartz (all photos)
The conference drew more than 300 exhibitors and more than 200 guest speakers, who detailed the latest trends and hot topics in cybersecurity to an estimated crowd of 15,000 attendees.
GCHQ Cybersecurity Official Keynotes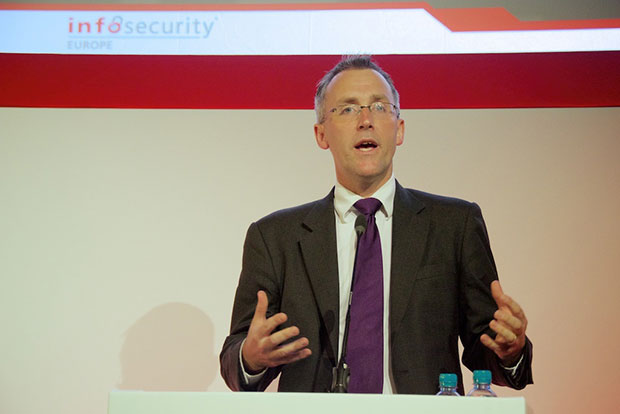 GCHQ's Director General of Cyber Security, Ciaran Martin, delivered the conference's opening keynote address, "Cybersecurity for Tomorrow." He focused on threats and threat actors, effective defenses and defense strategies, and GCHQ's role in helping to advance cybersecurity practices (see GCHQ Official Avoids Privacy Questions).
Making apologies for GCHQ seeming to have inherited the responsibility to serve as "top scarer" - a reference to the 2001 Pixar film "Monsters, Inc." - Martin noted that the escalating "cyber threat" is not the stuff of bureaucratic fiction, or some millennium-type bug. "As my boss, GCHQ's Director Robert Hannigan, noted in his foreword to the newly reissued Cyber Essentials earlier this year: 'In GCHQ we continue to see real threats to the U.K. on a daily basis and I'm afraid the scale and rate of these attacks show little sign of abating.'"
Battling Cybercrime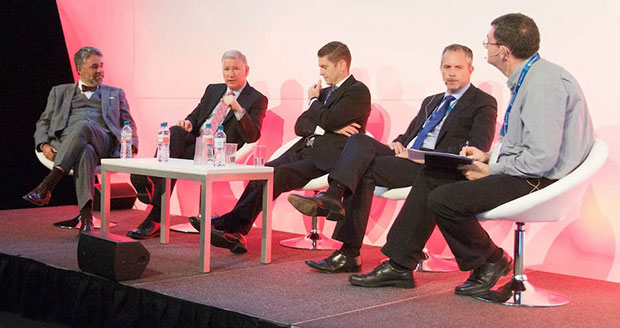 Picking up on Martin's threat picture, as well as the defenses that organizations must be deploying, the "Know Your Adversary: Who is the Cybercriminal?" panel discussion featured top law enforcement officials and industry experts - including Europol Deputy Director Operations Wil van Gemert, and FBI assistant legal attaché Michael Driscoll - detailing cybercrime trends, as well as strategies for disrupting the estimated 100 to 200 criminals believed to be responsible for the vast majority of today's cybercrime tools (see How Do We Catch Cybercrime Kingpins?).
London Conference's 20th Anniversary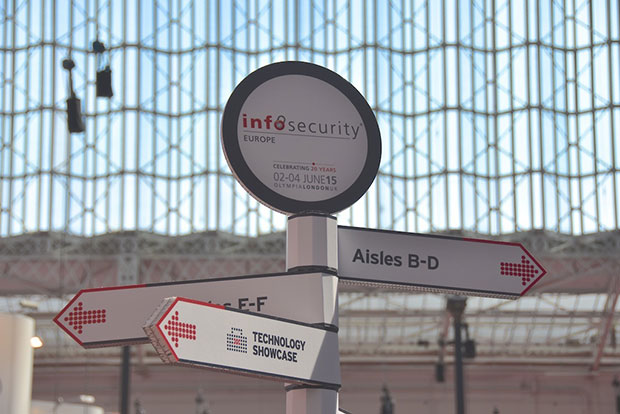 To celebrate the conference's 20th anniversary, the organizers held a special event at which anti-virus pioneer John McAfee delivered a speech that touched on some of his favorite themes, including information security, surveillance, privacy and paranoia.
Best quote from @officialmcafee at #infosec15 last night: "I don't want to live with a government that's as paranoid as I'm supposed to be."

� John Leyden (@jleyden) June 4, 2015
Hall of Fame: Jack Daniel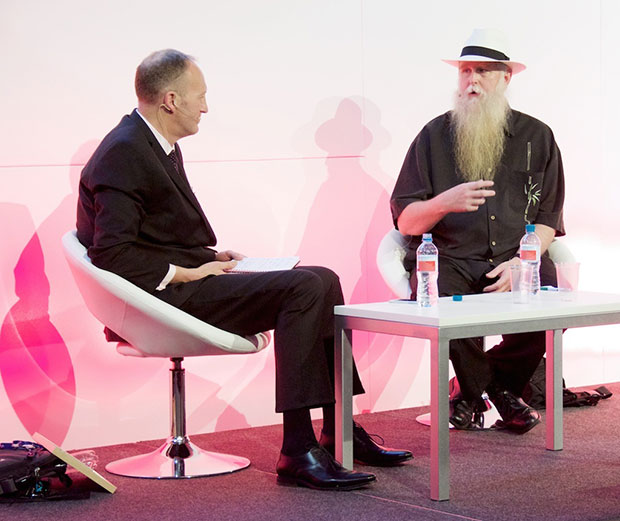 Jack Daniels' beard has its own Twitter account.
Tenable Network Security's Jack Daniel was inducted into the Infosecurity Europe Hall of Fame, joining such alumni as Bruce Schneier - who spoke at the conference about the increasing "cyber arms race" we face - as well as Eric Cole, Mikko Hypponen, Whitfield Diffie, Dan Kaminsky and Eugene Kaspersky, among others. Daniel has more than 20 years of experience in network and system administration and security, co-founded and organizes Security B-Sides events, is a Microsoft MVP for Enterprise Security, and is also renowned for his ZZ Top-rivaling beard.
Mr @jack_daniel with his #infosec Hall of Fame award. Well deserved old chap. pic.twitter.com/VzNf2gtQmq

� Gavin Millard (@gmillard) June 4, 2015
Experts: Live & In Person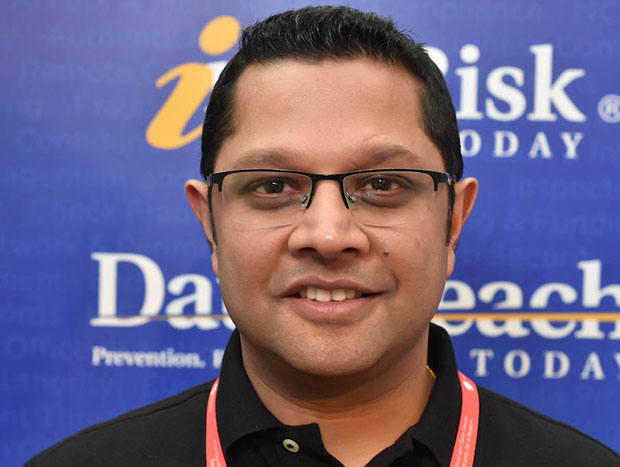 Trend Micro's Bharat Mistry
Being at Infosec Europe is a great way to connect with numerous information security experts to hear about the latest trends. I met many experts, including Symantec's Sian John discussing business executives' increasing focus on "cyber"; Intel Security's Raj Samani talking about botnet busting, as well as the challenges and opportunities the Internet affords us; Trend Micro's Bharat Mistry detailing the continuing rise of the cybercrime-as-a-service model; and Darktrace's David Palmer detailing how machine learning can secure networks.
Looking Forward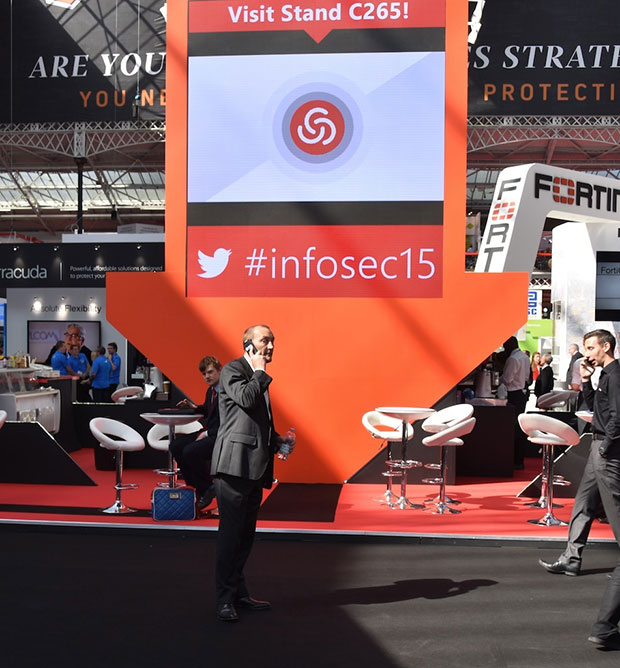 For further coverage, be sure to see Information Security Media Group's dedicated Infosec Europe event page. And start planning now for Infosec Europe 2016, which will run April 19 to 21.
Additional Summit Insight:
Hear from more industry influencers, earn CPE credits, and network with leaders of technology at our global events. Learn more at our Fraud & Breach Prevention Events site.