Events , RSA Conference , RSA Conference Videos
Internet of Things: Legal Issues
Attorney Stephen Wu on Impact of Increasing Computerization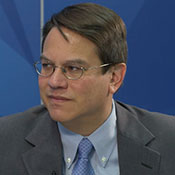 At a time of sweeping and rapid change in cybersecurity, IT security attorney Stephen Wu says organizations need to be prepared from a compliance, incident response and risk management perspective to address novel situations stretching society's capabilities.
See Also: Attack Surface Management: Improve Your Attack Surface Visibility
One aspect of the change is the increasing number of devices that connect to the Internet, the so-called Internet of Things, says Wu of the Silicon Valley Law Group.
In the interview at RSA Conference 2015, Wu:
Discusses legal concerns security practitioners should consider in deploying and managing Internet-tied devices;
Advises that securing the Internet of Things should not be done in isolation; and
Explains why information security legal issues go beyond harm to data and systems, but include the potential for property damage, bodily injury or even death.
Wu advises clients concerning information security, privacy and secure e-commerce matters. He formerly served as the chair of the American Bar Association Section of Science and Technology Law. A graduate of Harvard Law School, Wu previously served as in-house attorney at VeriSign. Wu has written or co-written five books on information security and the law.
Additional Summit Insight:
Hear from more industry influencers, earn CPE credits, and network with leaders of technology at our global events. Learn more at our Fraud & Breach Prevention Events site.