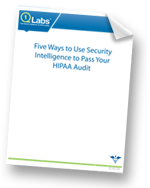 The Department of Health and Human Services has announced that approximately 150 onsite audits will take place throughout 2012, making this a busy year for IT security professionals in the healthcare industry.
Everyone is at risk of being audited so read through this ebook for tips on preparing for your audit.
Learn how healthcare organizations are transitioning from log management and SIEM to Security Intelligence;
How to use Security Intelligence to help protect ePHI and PII
Discover best practices on how to utilize Security Intelligence to demonstrate compliance with mandates and internal policies;
See how several major healthcare organizations are using the QRadar Security Intelligence Platform.