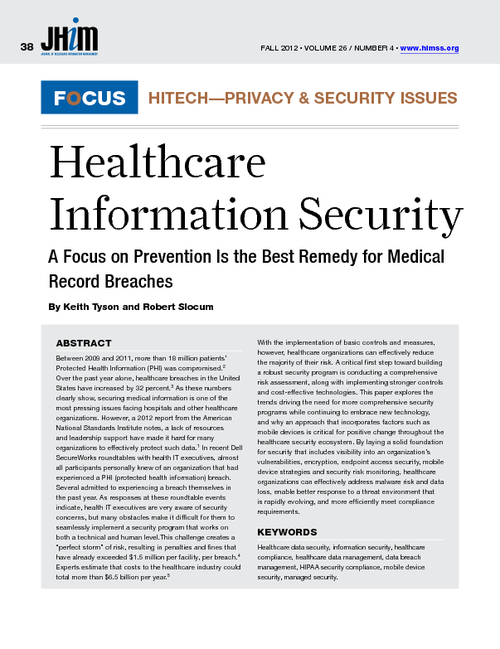 Between 2009 and early 2012, more than 18 million patients' Protected Health Information (PHI) was compromised. Over the past year alone, healthcare breaches in the U.S. are up 32 percent. As these numbers demonstrate, securing PHI is one of the most pressing issues facing hospitals and other healthcare organizations. While many obstacles make it difficult for healthcare providers and partners to implement a security program that works on both a technical and human level amidst a "perfect storm" of risk, the implementation of basic controls and measures can help effectively reduce the majority of their risk.
This paper, published in the Journal of Healthcare Information Management, a HIMSS publication, explores the trends driving the need for more comprehensive security programs while continuing to embrace new technology, and why an approach that incorporates factors such as mobile devices is critical for positive change throughout the healthcare security ecosystem.
You will learn:
Steps healthcare organizations can take to greatly minimize the risks from increasingly sophisticated attacks;
Which types of risks are most common and how to prepare for them; and
The risks mobile devices bring and ways to mitigate them.