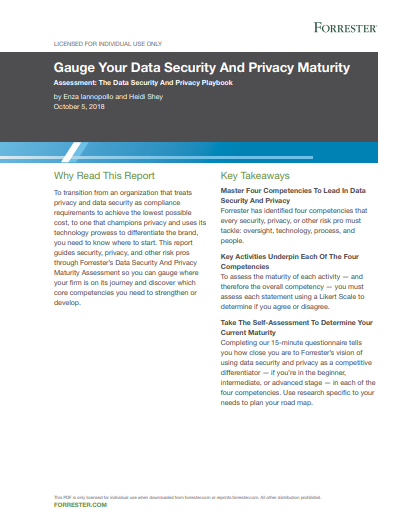 The stakes are high for consumer brands in today's data privacy landscape. Sophisticated cyberattacks and front-page data privacy breaches threaten to compromise customer data and damage brand trust.
To succeed today, brands must implement a data security and privacy strategy that prioritizes customer trust. Are you up to the challenge? Use Forrester Research's "Data Security and Privacy Maturity Assessment" to gauge your brand's competencies and identify areas for improvement.
You will learn:
The four key data security and privacy competencies B2C brands must master
How you measure up against Forrester Research's recommended best practices
Tips to make your data security and privacy culture a competitive differentiator
In viewing this content, we would like to share your data with the content creator. Click here for more info or to opt out.