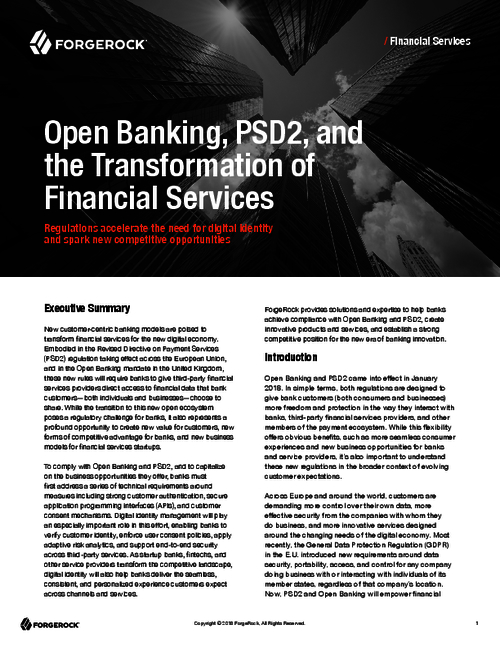 The Open Banking mandate in the United Kingdom and the second Payment Services Directive (PSD2) regulation in the EU are meant to increase competition and innovation in the financial system. They come into force in early 2018 and will set new standards for banks in the areas of strong customer authentication, secure application programming interfaces (APIs) for customer data sharing, and modern customer consent mechanisms.
This is a golden opportunity for banks not only to comply with regulations, but to also position themselves for success in the new era of digital banking. A complete digital identity management platform can help banks to meet new technical demands and also introduce new personalized products and services, strengthen customer relationships, and build the secure banking platform of the future.
Download this whitepaper to learn how you can address the four main challenges that come with Open Banking and PSD2:
Securely authenticating customers, employees, partners, and things;
Managing API access to confidential customer data;
Sharing personally identifiable information with customer consent;
Leveraging identity best practices to rapidly deploy in various environments.